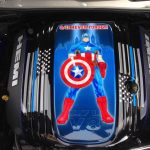 Creating custom airbrushing for your vehicle is a passion for Jeff Simon (JT), owner and artist at JT Airbrush Art & Design. Jeff's versatility as an artist allows him to create airbrushed designs to fit your specific needs. From custom art to turn heads, to professional lettering for advertising and business, JT Airbrush Art & Design will take care of all of your needs from start to finish.
Creative, professional, and detail-oriented, JT's automotive airbrushing can be applied to all vehicles, including cars, trucks, and buses. His love and respect for the art form make him a leader in the competitive airbrushing industry. Featured across multiple airbrushing magazines, JT Airbrush Art and Design's skill and professionalism make them easy to trust when it comes to customizing your vehicle.
The art of airbrushing allows an artist to blend colors seamlessly, creating incomparable dimension and realism. Used on cars since the 1950's, automotive airbrushing has become even more popular in the last two decades thanks to the increased amount of attention the art form is getting because of talented artists, like JT, who have devoted themselves to the craft.
There is nothing more satisfying than having your vehicle custom airbrushed, especially when it's done right.
Each and every vehicle that comes through the doors at JT Airbrush & Art Design is worked on solely by JT. This means that he can personally guarantee your satisfaction, ensuring that every detail is tended to throughout the design process. No customer leaves dissatisfied. When you trust JT with your vehicle's customization you are trusting that you will get exactly what you wanted, when you wanted.
If you have ever considered custom airbrushing for your car or truck, now's the time to make it happen.
For questions about custom airbrushing, get in touch with JT Airbrush & Art Design today and JT will get back to you directly.