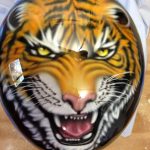 Jeff Simon (JT), owner and artist at JT Airbrush Art & Design, is an expert when it comes to creating custom airbrushed designs on all styles of helmets. Although motorcycle helmets are the type most frequently custom painted, JT also airbrushes baseball helmets, snowboarding and skiing helmets, and even BMX bicycle helmets.  JT can customize your helmet, bringing to life your unique vision.
Custom painted helmets keep the attention on you, making you stand out from the crowd and showing the world your personality without you ever having to say a word. Whether your vision is fantasy-based, old-school inspired, or something totally unique, JT has the skill and expertise to execute.
Custom headgear and airbrushed helmets can be seen around the world on some of the best, most talented athletes. In the world of BMX, the custom helmets of Daniel Sandoval, Curtis Keene, and Mariana Pajon turn heads both in professional competition and at their local tracks. From the slopes to the streets, airbrushed helmets are helping athletes and enthusiasts bring their personal style into focus.


Each and every job that is brought to JT Airbrush Art & Design is worked on solely by JT. This means that he can personally guarantee your satisfaction, ensuring that every detail is tended to throughout the design process. No customer leaves dissatisfied. No piece of your design is forgotten or misinterpreted. When you trust JT with the customization of your helmet you are trusting that you will get exactly what you wanted, when you wanted it.
If you don't have your custom idea ready right now, JT is happy to work with you to create a unique design, bringing in elements of your personal style, influences, and history.
Don't live in the area? No problem. JT Airbrush & Art Design accepts helmets by mail, making it possible for your helmet to get custom painted no matter where you live.
For questions about helmet airbrushing and customization get in touch with JT Airbrush Art & Design today. JT will get back to you directly as soon as possible.