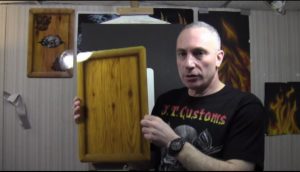 JT Airbrush Art and Design is a custom paint studio specializing in airbrush art, pinstriping, hand lettering and custom graphics.  Artist and owner, Jeff "JT" Simon was born in New York City and raised and currently living on Long Island, NY. JT Airbrush Art and Design combines painstaking attention to detail and originality to create outstanding artwork and graphics on vehicles of all types, goalie masks, helmets, shirts, hats, shoes, as well as fine art commissions and illustrations.
Goalie mask painting has become one of Jeff's areas of specialization. He provides goalies in the Long Island, New York, Tri-State area, and anywhere else in the world, with mask designs that project your personality and provide a unique presentation all your own.
Thanks for taking the time to stop by and visit. If you have any questions, please contact me. I will respond to all inquiries.