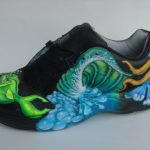 Nothing is cooler or more bad-ass than a pair of custom kicks. Let JT Airbrush Art & Design transform your shoes by using the art of airbrushing to bring your unique vision and style to life.  Jeff Simon (JT), owner and artist at JT Airbrush & Art Design, is an airbrush expert, capable of taking any design or idea you have and interpreting it directly onto sneakers and other canvas or leather style shoes.
In order to customize sneakers, the artist must be able to interpret large visions, scaling them to the correct size while ensuring that no element of the design is lost. One of the best in the business, JT loves the challenge that airbrushed sneakers bring to the table. From detailed patterns, team logos, landscapes, and more, JT knows how to make it all work on the shoes' unique surface.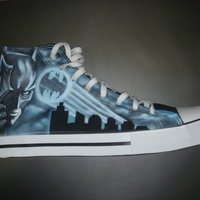 Painted shoes and airbrushed sneakers are not a trend – for decades, people have been using their shoes to create individual statements. But unlike print and flat looking decals, airbrushing allows the artist to create incomparable dimension, delivering designs that stand out no matter where your feet take you.
Each and every job that is brought to JT Airbrush & Art Design is worked on solely by JT. This means that he can personally guarantee your satisfaction, ensuring that every detail of your design is tended to. No customer ever leaves dissatisfied and no piece of your design is forgotten or misinterpreted. When you trust JT with the job of customizing your sneakers, you are trusting that you will get exactly what you wanted.
JT loves to work with his customers on a one-on-one basis to ensure that he completely understands the artistic vision. JT Airbrush & Art Design has worked with customers from around the world, communicating in person, via phone and email, and even Skype.
For questions about customizing your sneakers get in touch with JT Airbrush & Art Design today. JT will get back to you directly as soon as possible.