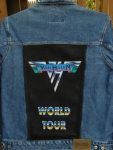 Whether you are looking for custom airbrushed shirts for your team or party or just want a killer design to add to your closet, JT Airbrush Art & Design can get the job done. Jeff Simon (JT), owner and artist at JT Airbrush Art & Design, is a true artist when it comes to the world of airbrushing. His unique ability to bring designs to life on shirts, jackets, bags, pants, etc. make him one of the most sought after airbrush artists in the country.
Custom airbrushing your apparel guarantees that you will get attention. No other art form allows an artist to create such realistic dimension. By seamlessly blending multiple colors, combined with exacting detail, the art of airbrushing cannot be replicated by print or vinyl.


Custom airbrushed shirts and other apparel have been seen on the streets in the United States since the 1960's, making a huge impact in the 80's, coinciding with the rap and hip-hop movement. Graffiti shirts, created by talented airbrush artists, continue to be some of the most popular airbrushed t-shirts in the country. But no matter what your personal style is, you can be sure that airbrushing is the best way to bring it to life on your shirt.
Each and every custom airbrushed shirt that is brought to JT Airbrush Art & Design is worked on solely by JT. This means that he can personally guarantee your satisfaction, ensuring that every detail of your design is tended to. No customer ever leaves dissatisfied and no piece of your design is forgotten or misinterpreted. When you trust JT with the job of personalizing your shirts, you are trusting that you will get exactly what you wanted.
JT loves to work with his customers on a one-on-one basis to ensure that he completely understands the artistic vision. JT Airbrush & Art Design has worked with customers from around the world, communicating in person, via phone and email, and even Skype.
For questions about custom airbrushing apparel, get in touch with JT Airbrush Art & Design today. JT will get back to you directly as soon as possible.